Ashleé Clark, Louisville Public Media's vice president-digital, will be named the 2022 recipient of the College Heights Herald Award for Outstanding Contributions to Journalism at the WKU Student Publications annual homecoming breakfast in October.
Clark, who was editor-in-chief of the College Heights Herald in the 2006-07 academic year, graduated from WKU in May 2007 with bachelor's degrees in news/editorial journalism and sociology. She worked on the Herald for four years. She also holds a master of fine arts degree from Spalding University in Louisville.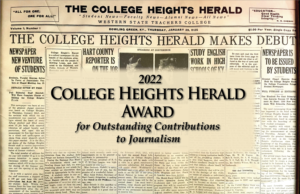 Clark was selected as the 70th winner of the Herald Award for her achievements in her career as well as for her service to Student Publications as an alumna. Clark serves on the Student Publications Advisory Board and is a regular speaker and coach for the Xposure High School Journalism Workshop hosted by Student Publications each summer.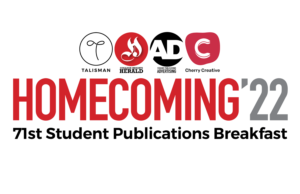 In her role as a VP at Louisville Public Media — the public broadcaster that is home to the Kentucky Center for Investigative Reporting, National Public Radio affiliate WFPL and the eclectic WFPK — Clark focuses on reaching audiences beyond traditional radio, including through social media and newsletters.
She began her career as a newspaper reporter at the Lexington (Ky.) Herald-Leader where she covered general assignments and criminal justice. She then joined AmeriCorps and served as a development assistant at a community center in Louisville. During that time, she started a blog called Ashlee Eats, which covered her adventures in Louisville's casual dining scene. After AmeriCorps, she worked in communications at Humana, a healthcare company based in Louisville, and continued to blog. The blog led to the publication of Clark's book, Louisville Diners (History Press, 2015). She then became an oven and smart kitchen appliances reviewer at CNET, a website that covers consumer electronics.
Clark's writing has appeared in the book The Louisville Anthology (Belt Publishing, 2020), Salon, The Washington Post, CNET, the Lexington Herald-Leader and other publications. She has been a speaker or reader at the Kentucky Women Writers Conference, Spalding University, the University of Tennessee, Western Kentucky University, the InKY Reading Series and Flying Out Loud reading series.
Clark also hosts The Moth StorySlam competition in Louisville.
Clark will receive the Herald Award at the 71st Student Publications Homecoming Breakfast at 9 a.m. Saturday, Oct. 29, at the Adams-Whitaker Student Publications Center at WKU. You can register to attend the breakfast here.