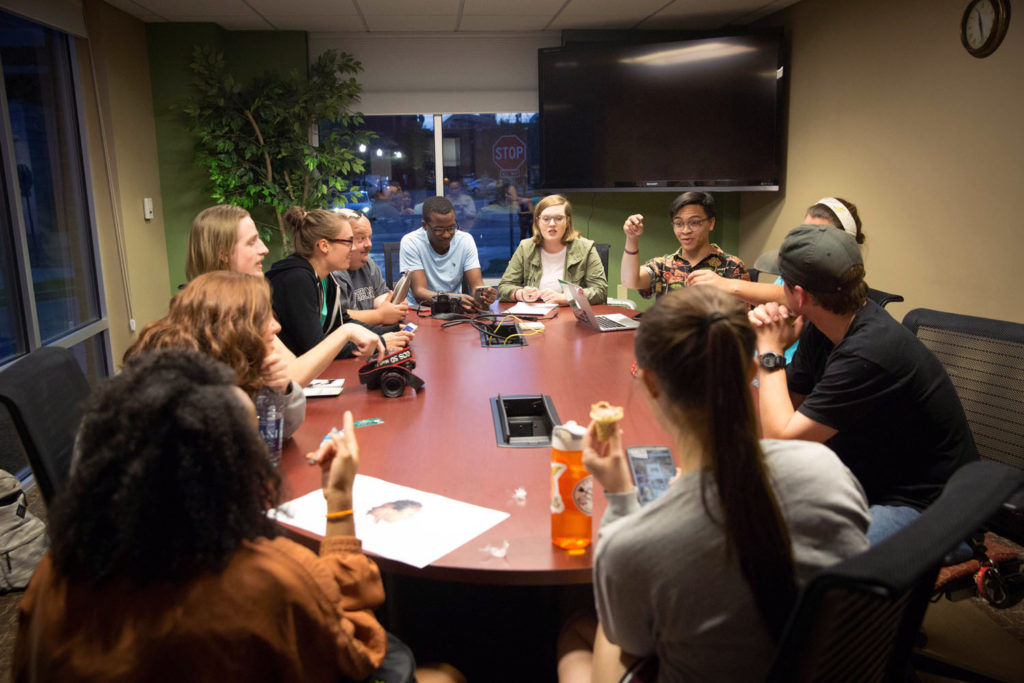 Your support has never been more important to the ongoing success of the College Heights Herald, the Talisman, Cherry Creative and Student Publications Advertising.
And as the news industry faces challenges nationwide, journalism has never been more important. Well reported and well edited information is crucial to a free society, and WKU Student Publications is one of the best training grounds in the nation for the next generations of journalists.
We are in an era where philanthropic support, especially from our alumni and friends, is essential to maintaining our abilities to provide the kinds of real world experiences that have made journalists who emerge from our publications some of the best in the country. Thirty-four of them have either won outright or had roles in journalism that earned Pulitzer Prizes. And three of our student-led divisions — the Herald, the Talisman and Cherry Creative — have an astonishing 44 national Pacemaker Awards among them, the highest honors for student-run media.
Can you help us?
We encourage you to consider supporting our students with current gifts. Please consider the Student Publications Legacy Fund, which supports general needs, and the Student Publications Fellowship Fund, which supports summer internships at partner organizations. Both funds are housed in the WKU Foundation.
In October 2020, we publicly launched an effort to build a $3 million endowment to support Student Publications, our flagship publications and our student-led divisions for the long term. Our goal is to have $3 million donated or committed to the Student Publications Endowed Fund by 2024-25, which will mark a century of student-led journalism at WKU. We will welcome current, pledged and estate gifts.
And we are launching a public radio-style effort to show your support by becoming a member of Student Publications at various levels.
To make a donation, check out the areas under [ DONATE ] on the website menu. All our funds are in either the WKU Foundation or the College Heights Foundation (scholarships) and cannot be used outside Student Publications.
If you're looking to help us with our greatest needs, donate to the Student Publications Legacy Fund, an unrestricted fund in the WKU Foundation that we can use right away for the most crucial needs.
MATCHING GIFT INFORMATION
If you work for a company that matches your gift to a 501(c)3 organization (such as the WKU Foundation, where our funds are housed), make sure you fill out the matching gift information on the donation page.
If your company requires a minimum donation for a match to be made available, you have the option of making your contribution quarterly or annually.
For example, Gannett matches at 100% but requires a minimum contribution of $50. In order to achieve the donation level to qualify for the match, you can pay a Student Publications membership either quarterly or annually rather than monthly.
QUESTIONS ABOUT MAKING A DONATION?
Call or email Chuck Clark at 270-745-4206 or [email protected]. If I don't know the answer, I'll find out!