(Homecoming parking map at bottom of page)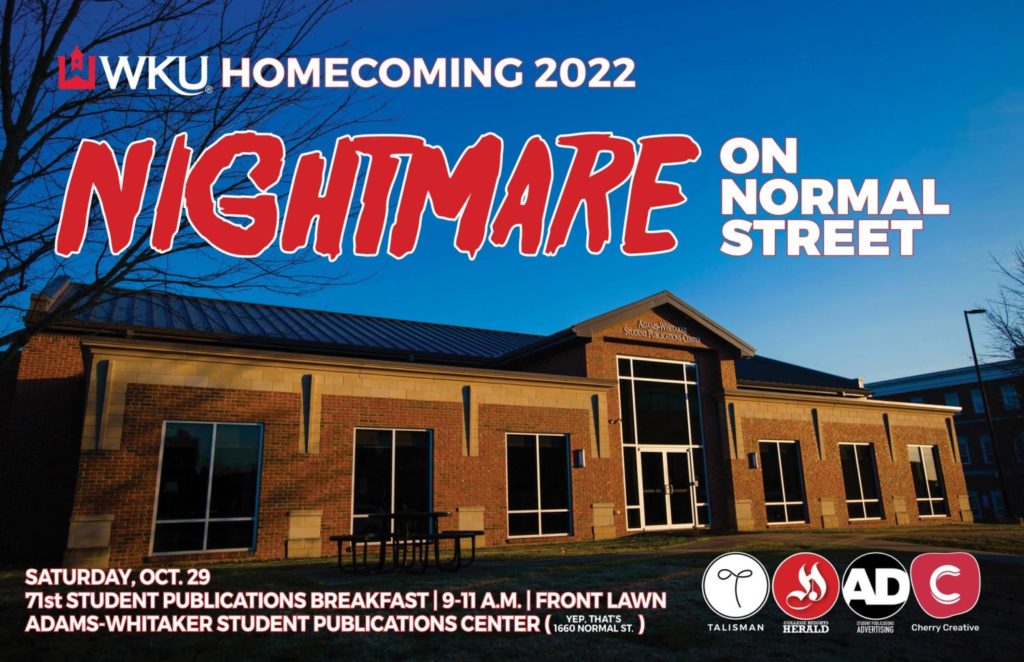 The WKU Student Publications 2022 Homecoming Breakfast is set for 9 a.m., Saturday, Oct. 29, on the front lawn of the Adams-Whitaker Student Publications Center.
Based on how much alumni enjoyed our breakfast at the Student Pubs building in 2021, we're gathering on site again this year. We'll start at 9 a.m. for breakfast and fellowship and then have a short program that starts at 9:45 a.m.
During that program, three things will happen:
We'll honor our 70th winner of the College Heights Herald Award for Outstanding Contributions to Journalism, Ashlee Clark.
We'll celebrate our 25th winner of the Talisman Award for Outstanding Contributions in Communication, Chris Poynter.
We'll honor our beloved Mr. A, who is being inducted into the inaugural class for the Associated Collegiate Press Pioneer Awards honoring college media advisers who have done groundbreaking work.
So come join us as we mark the 71st gathering for alumni of the Talisman, the College Heights Herald, Student Publications Advertising and Cherry Creative — a tradition on the Hill since 1950!
Sign up below to reserve your seat now:
HOMECOMING PARKING MAP