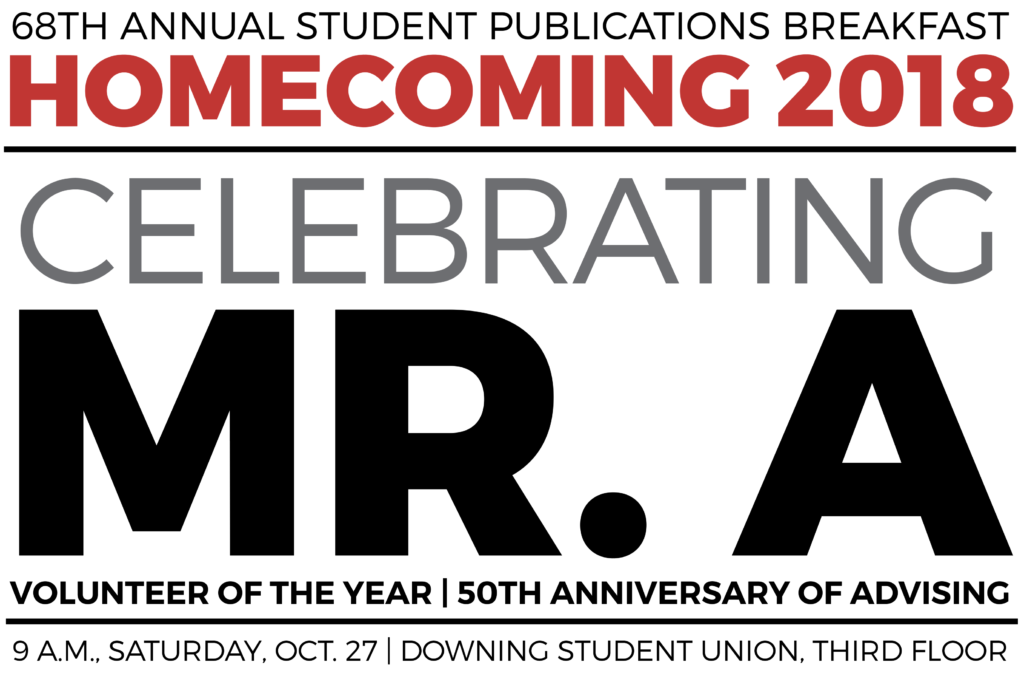 We're celebrating Bob Adams at the 68th Annual Student Publications Breakfast at WKU's Homecoming this year.
No one has had a bigger impact on the College Heights Herald and the Talisman than our Mr. A. That's just a fact. But this year, for two reasons, homecoming will be special:
Bob Adams, Mr. A

2018 marks the 50th anniversary of Mr. A becoming Herald adviser, a job that in the following decades grew into becoming the director of Student Publications, including steering it through pivotal moments that shaped our family into what it is today.

We are using Homecoming to celebrate Mr. A's extraordinary dedication as a volunteer at Student Pubs, where he has invested an incredible level of time, talent and treasure since he entered full retirement on June 30, 2013.
During the first year after he stepped down as director, Mr. A was in something the bureaucrats call "transitional retirement," meaning he was supposed to be working part-time to ease into retirement. Of course, Mr. A is no part-time guy. He was in the office all day, every day, coaching the new director on how to manage around the university bureaucracy and, through the transition, ensuring that we maintained the special atmosphere where students really are the engine of our success.
But in the five years since that transitional year ended, Mr. A continues to be a force for good, keeping an office in the Adams-Whitaker Student Publications Center, dropping in several times a week, getting to know students who make the Talisman and the Herald, helping stage our summer Xposure workshop. He serves on our advisory board, and is always available for advice, lending a hand, defending us, paying visits to alumni and generally flying the Student Pubs flag high and proud.
The only difference? Now it's on his schedule. He doesn't have to pay attention to deadlines. He doesn't have to do the paperwork. And he can take vacations at will.
So for 2018, marking five years of exceptional volunteerism, we are honoring Mr. A with the Student Publications Volunteer of the Year Award. The award will be presented at the WKU Summit Awards banquet on Thursday, Oct. 25, at the Augenstein Alumni Center.
Then, at the Talisman and Herald's annual Homecoming Breakfast on Saturday, Oct. 27, we will celebrate Mr. A's 50th anniversary of joining the Student Publications professional staff.
If you are interested in attending the Summit Awards, tickets will be available for $50. We will post information as soon as we get it.
Our Homecoming Breakfast is at 9 a.m., Saturday, Oct. 27, on the third floor of Downing Student Union (which many of us still call DUC). Tickets are $20 each, and you can reserve your spot by calling Tracy Newton in the front office at 270-745-2653.
So if you didn't already have enough reason to come home to the Hill for homecoming, come back to rejoin the WKU Student Publications family and honor Mr. A, who has dedicated himself to the thousands of students he successfully launched into life from the College Heights Herald and the Talisman.