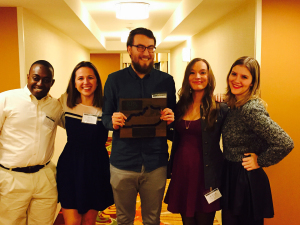 The College Heights Herald, WKU's student-run newspaper and digital news sites, won the Kentucky Press Association's top honors for both news and advertising excellence among colleges at KPA's 2015 winter conference in Louisville last week. The honors come as the Herald celebrates its 90th birthday on Jan. 29.
It is the second year in a row that the Herald has won both competitions among the state's college and university newspapers. Second place for General Excellence went to The Kentucky Kernel at the University of Kentucky, and third place went to The Murray State News at Murray State University. The KPA contest covered the period from Oct. 1, 2013-Sept. 30, 2014. The Florida Society of Newspaper Editors judged the news contest; the advertising contest was judged by Maryland/Delaware/District of Columbia Press Association.
Herald editors-in-chief during the contest period were Michael McKay, a Louisville senior; Joanna C. Williams, a May 2014 graduate from Clarksville, Tennessee; and Taylor B. Harrison, a December 2014 graduate from Lexington. Herald advertising managers during the period were Henry Sandefur, a December 2013 graduate from Calhoun; Sidney Wahle, a Louisville senior; and Zachary Tatoian, a senior from Dover, Delaware.
Carrie Pratt is the adviser to the College Heights Herald. Jason Thompson is the advertising adviser. Cameron Love, a Mount Washington junior, is the Herald's current editor-in-chief and Tatoian is the advertising manager and creative director.
KPA Excellence in Newspapers Contest
(College Heights Herald competes with all college and university newspapers in the state)
First place

General Excellence – Herald staff
Editorial – Herald staff
Column – John Greer
Sports column – Elliott Pratt
Sports feature story – Elliott Pratt
Investigative story or series – Tyler Prochazka
General news picture – Brian Powers
Feature picture – Brian Powers
Sports picture essay – Jabin Botsford, Ian Maule, Adam Wolffbrandt
Sports section – Herald sports staff
Lifestyle section – Herald features staff
Front page – Herald staff
Website – wkuherald.com
Second place

Breaking news coverage – Jacob Parker, Jackson French, Josh Newell
Sports feature story – Jonah Phillips
General news picture – Brian Powers
Sports picture essay – Luke Franke
Special section – Herald staff
Sports special section – Herald sports staff
Headline – Herald staff
Third place

Breaking news coverage – Shelby Rogers
Investigative story or series – Tyler Prochazka
Business story – Mackenzie Mathews
Multimedia – Jonah Phillips, Kreable Young, Tyler Essary, Cameron Love
General news picture – Luke Franke
Picture essay – Jabin Botsford
Sports picture essay – Mike Clark
Sports special section – Herald staff
Editorial page – Herald staff
Honorable mention

Breaking news picture – Ian Maule
General news picture – Abbey Oldham
Sports picture – Demetrius Freeman
KPA Advertising Excellence Contest
(College Heights Herald competes with university newspapers and commercial free-distribution publications, including magazines)
First place

Real estate – Herald ad staff
Multiple advertiser sig page – Zach Tatoian
Entertainment/dining – Herald ad staff
Ad series – Steven Charny
Holiday/miscellaneous – Herald ad staff
Newspaper promotion – Steven Charny
Online/digital – Herald ad staff
Second place

General excellence – Herald ad staff (top finisher among university publications)
Financial – Zach Tatoian
Multiple advertiser sig page – Zach Tatoian
Special sections – Steven Charny
Special publications – Zach Tatoian
Ad series – Zach Tatoian
Special events – Herald ad staff
Newspaper promotion – Peyton Hobson
Third place
Financial – Zach Tatoian
Furniture – Zach Tatoian
Clothing store – Zach Tatoian
Special sections – Zach Tatoian
Special publications – Zach Tatoian
Ad series – Peyton Hobson
Newspaper promotion – Zach Tatoian
Honorable mention

Real estate – Steven Charny
Special publications – Herald ad staff
Use of color – Zach Tatoian