Laurel Deppen, a senior broadcasting major from Louisville, was selected Friday as editor-in-chief of the College Heights Herald for the Spring 2021 semester. It will be the second semester she has served as Herald editor.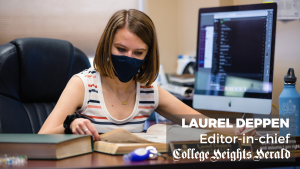 Deppen was selected by the Student Publications Committee, a university-wide committee that interviews candidates and selects the top editor for the Herald and the Talisman. Deppen was unopposed for a second term leading the Herald, and was lauded for her leadership skills, especially under the pressures of the global coronavirus pandemic.
During her first semester as editor, Deppen has led the Herald as it has grown its digital presence dramatically, posting stories on WKUHerald.com every day and generating an email newsletter that goes to nearly 24,000 subscribers each weekday.
She previously was managing editor, features editor and a features reporter. During Summer 2020, she was our Charles Mason Ralph fellow at The Charlotte Observer in North Carolina, and was our Paul & Ellen Schuhmann fellow during Summer 2019 at The Courier Journal.
The Student Publications Committee meets in the fall to select the Herald editor for the following spring semester, and meets in the spring to select the Talisman editor for the following academic year and the Herald editor for the following fall. It has 11 voting members, including three students at large, one representative from the Student Government Association, two faculty members, one professional staff member, the director of the School of Media and representatives from WKU's Public Affairs and Enrollment & Student Experience divisions, and the Kentucky Press Association.