WKU Student Publications has been awarded a $6,000 grant from The Billie P. Hatcher Charitable Trust to create training opportunities geared to the future of the news industry and touching each of our four student-led divisions.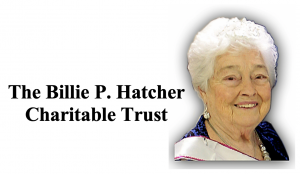 The Hatcher Trust is named for Billie Frances Pitchford Coots Hatcher, whose family founded the Citizen-Times newspaper in Allen County, which she led with the philosophy of "if we want to remain in business, we have to make the right decisions even thought they might not be popular."
Before she died in 2017, Mrs. Hatcher created a living trust, administered by the College Heights Foundation, to promote "good works serving the causes which I have felt strongly about throughout my life." Among those is journalism.
We are looking for ideas of how we can use this $6,000 grant in the next 10 months or so to create an exceptional training program that touches each of our areas — the College Heights Herald, Talisman, Student Publications Advertising and Cherry Creative. Possibilities include:
Attendance at workshops such as the College Media Megaworkshop in the summer.
Bringing in experts to work with our student and professional staffs, such as we were able to do last year with Paul Bittick to train our advertising staff.
Creating a "professional-in-residence" opportunity for a working professional to spend a week here working with us.
Making an equipment upgrade that would make in-house training more effective.
These are just a few of the possibilities.
We're seeking ideas from our student leadership and our professional staff on how we can most effectively use this generous grant to both deepen and broaden the training our student staffers can take part in. We also welcome ideas from our alumni and friends.
How we use this grant in the coming months is crucial. We will report to the board of The Hatcher Trust in the late summer/early fall of 2021 about how we spent their money, and they will consider continuing to fund our training efforts at $6,000 a year for four years beyond the initial grant. We hear the board likes the notion of training geared toward a strong future for journalism, including growth in the digital space.
Please give this some thought. We'd love to see ideas from our students, alumni and friends. They don't need to be elaborate – just ideas that you think would be a wise investment in training. You can send ideas to Chuck Clark.
We hope to have some ideas in hand before WKU closes to in-person classes on Nov. 20, and to start implementing those ideas in January.
Thank you for the energy you put into this!