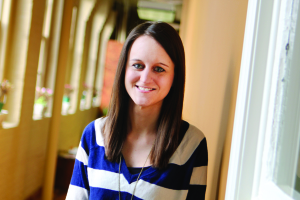 Emily Patton, a former Herald staffer who graduated in 2012, is now managing editor at Tucker Publishing in Evansville, Indiana.
Tucker, which publishes Evansville Living magazine, Evansville Business magazine and Evansville City View, is led by Kristen Tucker, editor of the 1985 Talisman.
Here's the press release:
Evansville, Indiana — Emily L. Patton has been promoted to the position of managing editor at Tucker Publishing Group.
She previously served as staff writer since December 2013. Prior to her affiliation with Tucker Publishing Group, Patton worked as a sports writer for the Frankfort State Journal in Kentucky's state capitol. She completed her bachelor's degree in news editorial journalism from Western Kentucky University, Bowling Green, Kentucky, in 2012.
Her duties as managing editor include all facets of editorial content, including generating ideas, assigning stories, and producing and proofreading copy. She also is responsible for overseeing E Living, a weekly virtual e-newsletter, producing custom publishing pieces, and updating the website and social media.
Tucker Publishing Group produces Evansville Living, Evansville Business, Evansville City View, as well as several ancillary publications. Evansville Living is the area's only full-color, glossy city magazine that uniquely and positively focuses on Evansville and the Tri-State area.