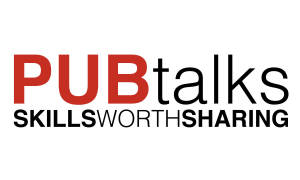 Certain skills you get out of the Student Publications experience stay with you for your entire life — and, if you're lucky, help you navigate your jobs, your families and life in general.
This week, we're launching a new series that we intend to develop into every-other-Friday lunchtime sessions called PUBtalks.
Yep, we're borrowing from the successful TED Talks for the name, but our series will be tailored to what will help our students build key skills they'll use over and over — while they're here and once they leave us.
The first sessions aim at Writing Professional Letters, Building Your Resume and Portfolio, and Leadership and Management. Just before school is out, we'll have a final session where students have input on the fall series of PUBtalks, which we'll plan over the summer and resume in late August or early September.
Don't be surprised if we call on some of our alums to help with PUBtalks — and if you have an idea for a great topic, please let us know!