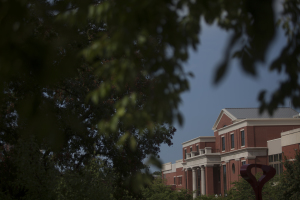 The WKU Student Publications Homecoming Breakfast will return to the main campus this fall.
In its 65th year, the breakfast — one of the largest and longest-running homecoming traditions at WKU — will be at the Downing Student Union on Saturday, Nov. 7, 2015. For the past eight years, the event has been at the Carroll Knicely Center on WKU's South Campus.
The reopening of the renovated DSU in Fall 2014, with its larger rooms to accommodate banquet-style events, brought the opportunity to return the breakfast to campus, and the Student Pubs pro staff decided to take advantage of that.
A couple benefits for alums:
— You won't have to fight for parking. You'll come directly to campus that morning, and not have to race back from the Knicely Center to try to find a parking place within walking distance.
— You'll get to sleep in just a bit longer. This year's event will start at 9 a.m. and wrap up before 11, when tailgating starts.
You'll also get a chance to tour the new student union, which looks nothing like the Downing University Center so many of us grew up with, as well as pose with the Big Red statue, grab a Starbucks and be right in the middle of all the action.
So mark your calendars now: 9 a.m., Saturday, Nov. 7, 2015. Be there! You'll get a postcard in September with all the details of Homecoming Weekend, but plan to be on the Hill come Nov. 7.
There will also be an option for an on-campus hotel for the first time. Hyatt Place opens at the Augenstein Alumni Center in time for Homecoming, but you'll want to get your reservation in early if you'd like to stay on campus.
If you're focused on football, the Toppers will take on the Owls of Florida Atlantic at Smith Stadium (still our style, though the muckety-mucks would like us to call it the "Houchens Industries-L.T. Smith Stadium"), time TBA.
(And, yes, we still call it DUC. But, shhhhh, don't tell anyone — that's not politically correct.)