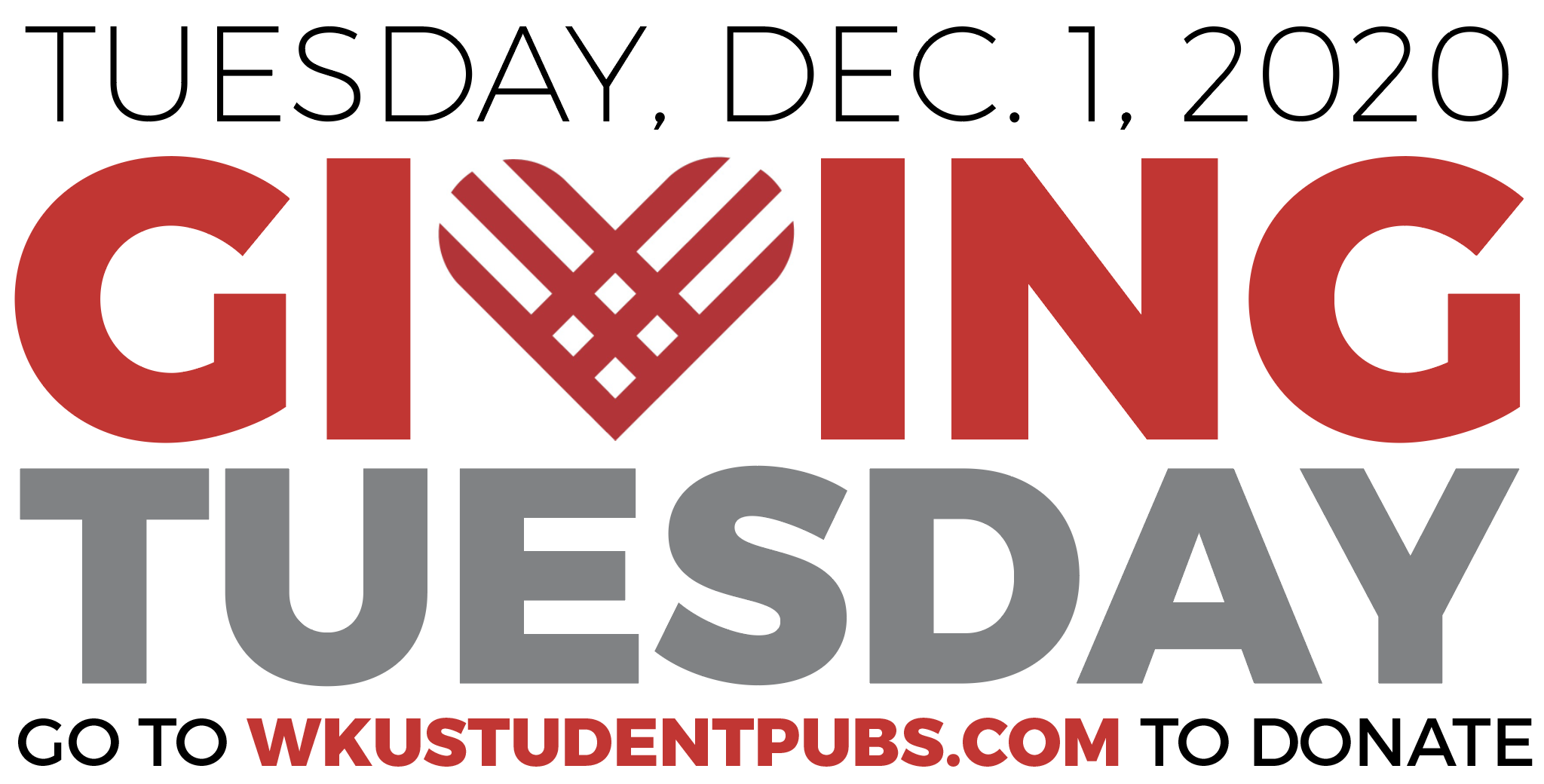 I'm a journalist, not a fundraiser.
I remember Bob Adams saying something similar many times when we were raising money 15 years ago to build the Adams-Whitaker Student Publications Center.
Now that I wear Mr. A's former hat as director of Student Pubs, I truly get what he meant. But with the realities we face, raising money has become an essential part of my job. And with the national Giving Tuesday to support nonprofits on Dec. 1, now is the time.
Just as in 2005, when we were raising money for a new home for the Talisman and the College Heights Herald, doing so again today is a matter of survival. Back then, the Herald and the Talisman were struggling because of the long, uphill walk from the new home of the journalism programs.
Today our situation is every bit as critical, maybe more so, but it's not because of location. Today, we are in a perfect storm of financial challenges:
Like all media, we are struggling to generate revenue by selling advertising. We don't have the option of going to subscriptions.
WKU's deep and ongoing budget woes, made worse by the global coronavirus pandemic, have hit every corner of the university, meaning WKU clients no longer have money to advertise with the Herald. Back in 2012, they represented more than 50% of our revenue. By 2019, our last normal year, they represented only about 20% of a smaller pot of revenue. Today, it's close to zero. And, remember, the Herald receives no direct funding from WKU.
Some of our biggest clients in the Bowling Green business community are out of business. And those that remain are holding on to their dollars, trying to survive the prolonged pandemic and economic challenges surrounding it.
Like every other WKU area, Student Pubs has been hit hard by university budget cuts. Our money available outside professional staff salaries and benefits has plunged 68%, from $216,023 in 2012-13 to just $68,533 in 2020-21. We have to stretch that to try to cover all expenses for operating the office, from gasoline and insurance to office supplies and publishing the Talisman.
We can get out of this, but it's going to take private support – your help.
We've cut expenses beyond the bone. Students cut their own pay roughly in half. Travel and expense budgets are gone. Training money, including for conferences, is gone. Talisman magazine will be published virtually only this year. There's no money to replace aging computers, and roughly one-third of our workstations are seven years or older.
We've also worked to raise revenue from nontraditional areas – sponsored content and special sections, the national award-winning WKU Graduate Gallery, events like the wildly popular WKU Housing Fair (which we likely can't hold this year), and building our non-university clientele year after year. All that was quite successful – until coronavirus hit.
Today we are perilously close to losing much that has been built over the generations to make the College Heights Herald and the Talisman national models for student-run publications.
So I am doing something I really don't like. I'm asking you for help.
One of the easiest things you can do is become a Student Publications member and send us tax-deductible contributions starting at $5 a month. You can learn all about it here.
You can also make a straight up donation to either our Student Publication Legacy Fund, which we can use for our most urgent needs, or our Student Publications Fellowship Fund, which pays for summer internship experiences in professional settings for our most promising students. (Where do we most need your help right now? In the Legacy Fund, which we can use for a wide variety of needs.)
Finally, you can remember us in your estate plan, or make a donation to the Student Publications Endowed Fund. We're aiming to have $3 million committed by 2024-25, which marks a century of student-led publications at WKU, and we're sitting at about $1.2 million committed as of now. In an endowed fund, the money you donate is never spent; rather, it is invested to generate proceeds on an annual basis. At $3 million, the endowment would generate close to $100,000 a year.
If you've already done this, know that all of us here at Student Pubs — the professional staff and the students — are grateful. Our alumni are unmatched anywhere for their care for our programs and their generosity.
Please don't think you need big money to make a difference. That simply is not the case. Whatever you can do to help will, indeed, help. I'll remind you that it was an army of small donors who made the Adams-Whitaker Student Publications Center possible.
As I said at the start of this note, I am not a fundraising professional. I don't know what will motivate our alumni and friends with the ability and the desire to reach into their pockets – other than the notion that what we do here with the Herald, the Talisman, Cherry Creative and Student Publications Advertising is essential. It is essential to our students growing skills, to our ability to serve our community by reporting news and reflecting life on campus, to training aspiring journalists for the crucial role that journalism must play in a free society.
Thank you for considering.
Chuck