The Talisman collected its 18th national Pacemaker Award on Saturday at the National College Media Convention in Washington, D.C.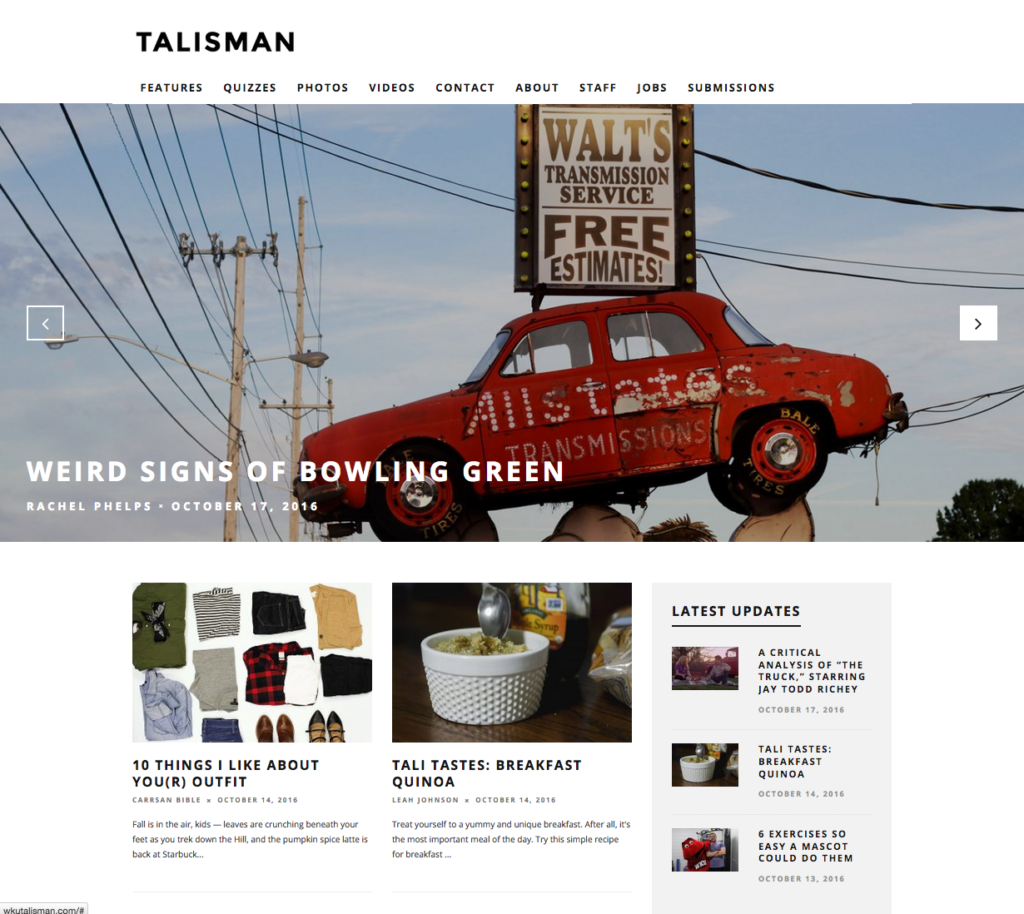 But this Pacemaker marked a significant move for the Talisman: The highest honor in collegiate journalism went to the new WKUTalisman.com, a pop-culture website that is a companion to the new Talisman magazine, which debuts next month.
The website, which launched last year, is a robust collection of quirky news items, photography, videos, quizzes, stories and all sorts of matter related to WKU. It was born from the Talisman staff's efforts to more effectively reach into the WKU community, and quickly gained popularity.
When the decision was made earlier this year to convert the Talisman yearbook to a twice-a-year life and culture magazine, the new website was envisioned as the magazine's digital partner — different, but complementing the printed magazine with daily updates and fresh, original material.
As co-editors of the Talisman is 2015-16, Tanner Cole, a May 2016 graduate from Gallatin, Tennessee, and Naomi Driessnack, a May 2016 graduate from Huntsville, Alabama, led the effort to create WKUTalisman.com. Tanner now works for The Hawk Eye in Burlington, Iowa, and Naomi works for GQ in New York City. Charlotte Turtle is the Talisman adviser.
Also at the National College Media Convention, the 2015 edition of the Talisman yearbook was named a Pacemaker Finalist, and the 2016 Talisman — the final issue as a yearbook — won third place in the Best of Show competition. Under the Associated Collegiate Press award cycle, the 2016 Talisman will compete for a Pacemaker in 2017.
In addition to the Talisman's 18 Pacemakers, the College Heights Herald has won 15.
Earlier this month, the 2016 Talisman yearbook and the WKUTalisman.com website were named as Gold Medalist publications by the Columbia Scholastic Press Association.