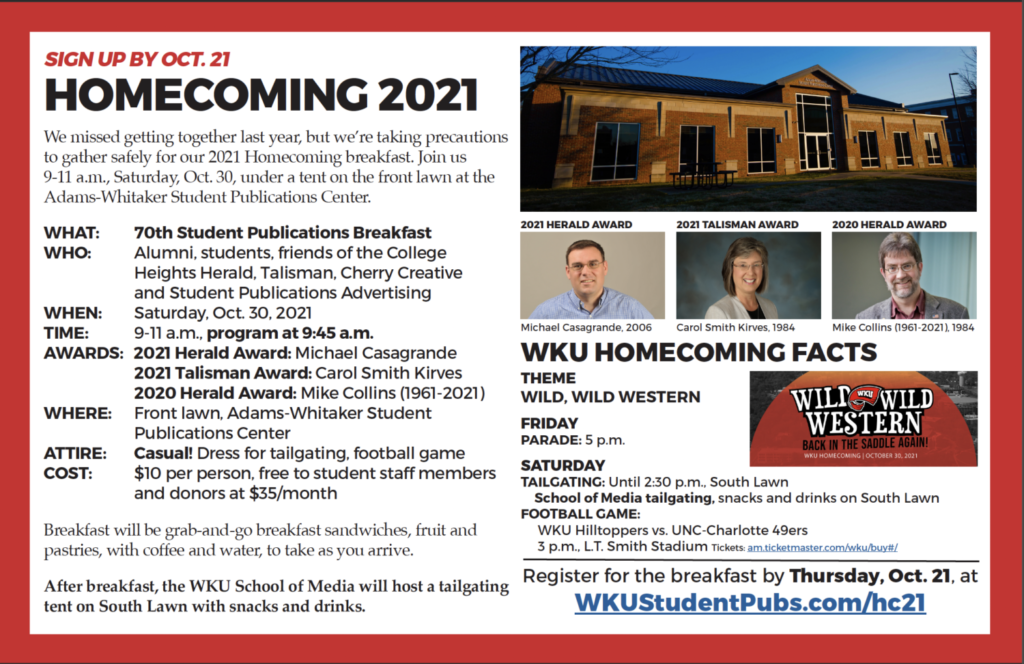 Our 70th Student Publications Homecoming Breakfast will be a first, at least in recent years and maybe ever — outdoors under a tent on the front lawn at the Adams-Whitaker Student Publications Center.
So we're encouraging you to dress accordingly — and casually. An outfit you want to wear for tailgating or the football game will be perfectly appropriate for our informal breakfast. No need for a sport coat or a tie!
Along with the casual dress will be a much less structured atmosphere than the last time we gathered in 2019.
The event will run from 9-11 a.m., rain or shine (the forecast is looking pretty good right now), and we'll have breakfast foods available starting at 9 — breakfast sandwiches, pastries, fruit, coffee and water. We're encouraging you to mingle and visit with your Student Pubs family — old friends and new.
We expect WKU President Timothy Caboni to drop by the tent between 9:15 and 9:30 a.m. to welcome you home to the Hill.
Our "formal" program won't be very formal — and it will be tight. We'll honor our alumni award winners, recognize an extraordinary three new scholarships launched this year and hear from the editors of the Talisman and the College Heights Herald.
About 100 people registered by our deadline on Thursday, so we're at capacity for this year's event.
After the breakfast, the WKU School of Media will host a tailgating tent with snacks and drinks on South Lawn, where alumni can gather until the football game at 3 p.m.