The College Heights Herald, WKU's student-led source for news, won the 2021 Newspaper Pacemaker Award on Thursday from Associated Collegiate Press, the Herald's 19th Pacemaker and the 41st won by students at WKU Student Publications.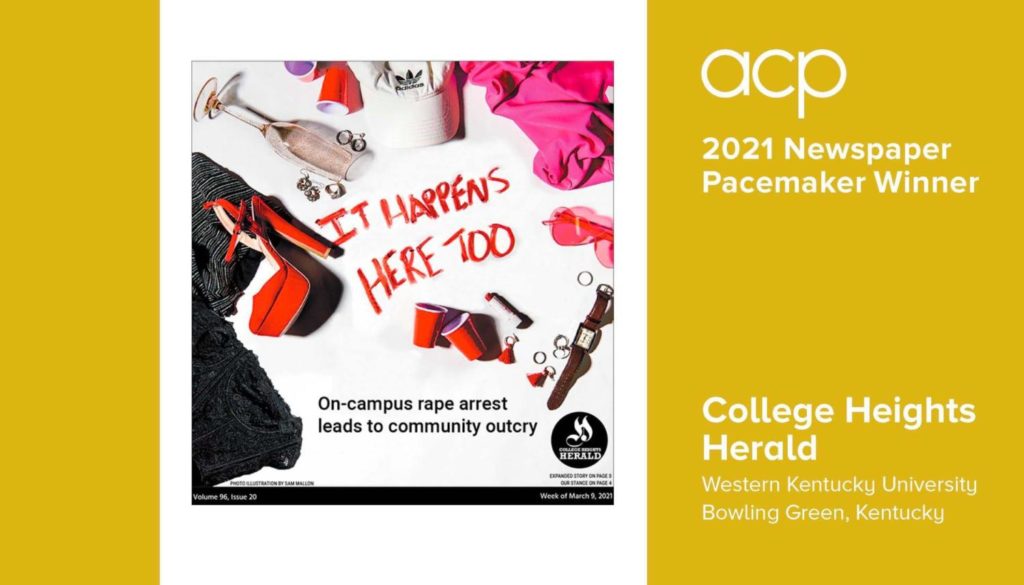 The Herald was honored for overall excellence of its print edition for 2020-21. The Herald's editor-in-chief during that year was Laurel Deppen, a May 2021 graduate who now is a reporter for Business First in Louisville.
Talisman, WKU's student-run life and culture magazine, was a finalist for ACP's Online Pacemaker Award. Talisman was edited by Max Zambrano, a May 2021 graduate who now works for WKU as an academic adviser.
ACP is the nation's oldest organization supporting student journalism at the collegiate level and its Pacemaker awards are considered the most prestigious that student-run publications can win.
"The Pacemaker is the association's preeminent award," ACP executive director Laura Widmer said. "ACP is honored to recognize the best of the best."
The 2021 Pacemaker was the fourth that the Herald has won in the past five years, and its 19th since winning its first Pacemaker in 1981.
All together, three student-led divisions within WKU Student Publications have accumulated 41 Pacemakers since Talisman won the publications' first Pacemaker in 1978 – 21 for Talisman, 19 for the Herald and 1 for Cherry Creative, a branded-content studio which won ACP's first Innovation Pacemaker in 2020.
The Herald and the Talisman are in the ACP Hall of Fame, and were honored earlier this year as members of The Pacemaker 100 – the 100 most successful student publications in the history of the organization, which was founded in 1921. WKU is the only college in Kentucky with two student publications in The Pacemaker 100.
In addition to the Herald's Pacemaker, several WKU students were honored with individual awards from ACP:
The staff of Cherry Creative won second place for Newspaper Special Section/Advertising for "WKU Housing Guide."
Ally Mefford, a May 2021 graduate, Joeleen Hubbard, a May 2021 graduate, Erin Horton, a May 2021 graduate, Sheyna Roscoe, a junior from Georgetown, and Hannah Vanover, a May 2021 graduate, won second place for Social Media Promotion for "Talisman Social Media Promotion."
Julianna Lowe, a senior from Cottontown, Tennessee, won fourth place for In-Depth News Story for "Rewriting the Epilogue," published in Talisman magazine.
Ashlyn Crawford, a senior from Lanesville, Indiana, won fifth place for Online Advertisement for Cherry Creative for "Always cheering on our Tops" for WK Liquors.
Eric Vazquez, a May 2021 graduate, and Jordan Matthis, a senior from Owensboro, won fifth place for Video Advertisement for "Fighting for the lives: Rock Steady Boxing combats Parkinson's," for Rock Steady Boxing.
Allie Hendricks, a junior from New Windsor, New York, won honorable mention for Environmental Portrait for "A glimpse into the life of a beekeeper," published in Talisman magazine.
Kayla Worden, a senior from Louisville, won honorable mention for Online Advertisement for Cherry Creative for "Perfect drinks to pair with turkey" for WK Liquors.
Eric Vazquez won honorable mention for Video Advertisement for Cherry Creative for "Muse," for Muse Apartments.
Kayla Worden won honorable mention for Cherry Creative for "Best of the Hill sales flier."