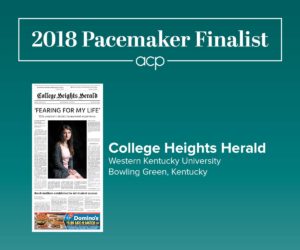 The College Heights Herald and the Talisman are finalists for three national Pacemaker Awards in 2018 – the highest honor a student-run publication can receive:
College Heights Herald – newspaper Pacemaker finalist.
WKUHerald.com – online Pacemaker finalist.
WKUTalisman.com – online Pacemaker finalist.
The Pacemakers are judged on the overall quality of the publications – everything from reporting and writing to visual journalism and design.
Having multiple Pacemaker finalists from one university is unusual – having three is a true accomplishment. Besides WKU, only four other programs in the country have three Pacemaker finalists nationwide in 2018: Kent State University, the University of Miami, Michigan State University and Syracuse University.
Among other programs recognized as the big names in collegiate journalism, Auburn, Ball State, Baylor, Columbia, Elon, Kansas, Minnesota, Oregon and Texas Tech have two finalists each. Indiana, Iowa State, North Carolina, Northwestern and Texas-Austin have one apiece. Missouri has none. Overall, 74 universities across the country have Pacemaker finalists in 2018; all but 14 have just one.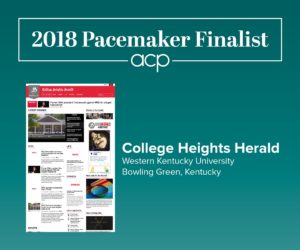 This speaks to the quality of work our students produce. Yes, they are learning, with all that entails. But these three finalist positions tell us that our students are collectively performing – taking what they learn in the classroom and applying it in a real-world setting – with a high level of quality as compared to their undergraduate peers across the country.
You might recall that in 2017 we won an outstanding three Pacemaker awards – for the Herald, WKUTalisman.com and the 2016 Talisman yearbook. All totaled, WKU Student Publications has 36 Pacemakers to its name: 20 for Talisman and 16 for the Herald, both of which are in the Associated Collegiate Press Hall of Fame.
I don't know whether we will win any Pacemakers this year when they are announced Oct. 27, but having three finalists is extraordinary and worthy of celebration.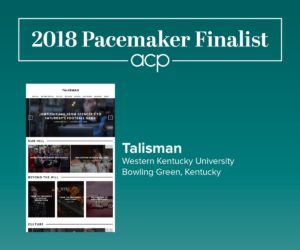 The thing about regularly placing as finalists and winning Pacemakers is that it makes it easy to miss how hard our students work striving to reach that elite level of quality. They toil over their journalism, working to make it as strong as they can. They take journalism seriously, and they are never satisfied with their own efforts. And when they do so well year in and year out, that consistency in quality can easily be taken for granted.
It ought not be. Congratulations to the students on the College Heights Herald and Talisman staffs!
— Chuck Clark