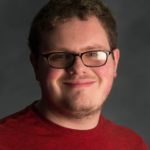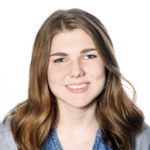 Andrew Henderson and Helen Gibson will lead the College Heights Herald and the Talisman in the coming year.
Henderson, 21, a junior communications and political science major from Olive Hill, was named as editor-in-chief Tuesday of the College Heights Herald and WKUHerald.com for Fall 2017.
Gibson, 21, a senior broadcast journalism major from Cadiz, was selected editor-in-chief of Talisman magazine and the WKUTalisman.com website for the 2017-18 academic year.
The Student Publications Committee — an 11-member panel of students, faculty and staff from throughout the WKU community — was unanimous in both appointments.
Henderson served as the Herald's Opinion editor for Fall 2016 and Spring 2017, and previously was news co-editor and a reporter, arriving on staff as a first-semester freshman. He will succeed Lashana Harney, a Paris senior, who is editor for Spring 2017.
Henderson said his work at the Herald made for a profound change in his life.
"I've logged more waking hours here than I have in any classroom, and a few sleeping hours as well," Henderson said in his application. "I want to be editor of the Herald not only because I can't imagine my life without it, but I don't want anyone else to imagine what their life would have been without it either."
Gibson currently is the Talisman web editor and was involved in helping shape the plan for converting the Talisman from a yearbook to a life and culture magazine and website. She has been involved with the staff since her freshman year and follows Kylee Kaetzel, a senior from Santa Claus, Indiana, as editor-in-chief.
Gibson said the Talisman became part of her path at WKU and after, when she hopes to work for a professional magazine.
"I didn't expect it, but in my time at WKU, the Talisman has grown to mean so much to me," she said in her application. "It's given me the unique opportunity to learn and discover my passions. Now … I hope to give back to the Talisman."
NOTE: This story was changed at 7 a.m. March 29 to correct the hometown of Andrew Henderson.