WKU's long-running high school journalism workshop has been canceled for a second year in a row by the global coronavirus pandemic.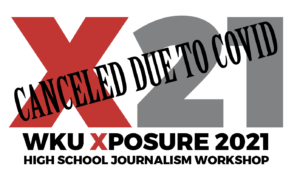 Xposure, which started in the early 1980s as the Urban Journalism Workshop and later was known as the Minority Journalism Workshop, has been canceled for 2021 after it became clear that vaccinations and widespread immunity to COVID-19 is not likely in time for the workshop's early- to mid-June time frame.
It was also canceled in 2020.
Xposure, which is hosted by WKU Student Publications, has been a great tool for giving aspiring journalists a launching pad — and recruiting them to the Hill for their college education. Among its alumni are Nikita Stewart of The New York Times, Jerry Brewer of The Washington Post, Kyle Hightower of The Associated Press, and scores of others with successful careers in journalism, the law and a variety of other professions.
During what would have been the time frame for this year's workshop, we will host a conference of workshop staff and alumni to discuss opportunities for recasting the workshop for when it resumes in 2022. The virtual gathering will be either June 5 or June 12.
Since 2012, nearly 40 percent of workshop participants chose WKU as their college home. From the most recent Xposure class, in June 2019, eight of 12 have chosen WKU so far — and not all have graduated from high school yet.
If you have ideas for how we should reshape the workshop, let us know! You can email me at [email protected].