I'm Chuck Clark, and I'm the director. You know – the guy who followed Mr. A and has the job of trying to fill the shoes that cannot be filled.
I've been at WKU Student Publications since June 2012, and it's such a wonderful thing getting to work with these young, gifted adults and watch them grow both as people and professionals. I worked on both the Talisman and the College Heights Herald as a student (graduated in 1983), so the value of Student Pubs has been apparent to me all my adult life.
After graduation, I spent 28 years working in newsrooms, ranging from The Gleaner in Henderson to the Orlando Sentinel, and lots of places in between – The Evansville Courier, the Sun-Sentinel, The Tennessean, The Charlotte Observer, The Courier-Journal, The Indianapolis Star. I spent my last six years in a newsroom at The Birmingham News in Alabama, where I was managing editor. If ever a place needed good journalism…
As a WKU alum, I've always tried to be involved – both with my university and with Student Publications. This special place helped give me direction for a great life and career, and it's always been important to me to give back in whatever way I could.
I never thought it would be director of Student Publications. But when Mr. A announced he was retiring, it seemed like a great chance to take nearly three decades in newsrooms navigating the change sweeping the industry, and bring that experience back to Student Pubs. It certainly fits the mission of this place — to help students build the skills to lead the news industry in creative and responsible ways.
Today, I can't imagine being anywhere else. I get to work with talented professionals who care deeply about our students, and about what our operation means. And I get to be around a constant flow of young people who are passionate and eager and smart and capable of doing exceptional things.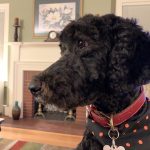 I also get to bring my pup to the office occasionally. Her name is Tali, short for Talisman. If she ever gets a brother, he'll be Herald. Anyway, Tali's a goldendoodle, and a great stress reliever.
And while I'll never be able to fill Mr. A's formidable shoes, our students continue to do the kind of work that makes WKU Student Publications such a special place.
Call me: 270-745-4206
Email me: [email protected]
Tweet me: @WKUChuckClark