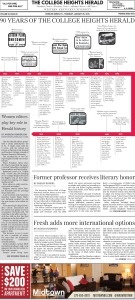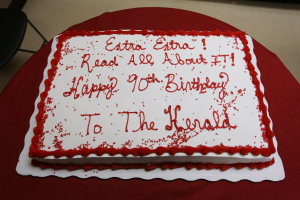 A lot has changed on the Hill since Jan. 29, 1925, the day the College Heights Herald first appeared.
Student Publications marked the Herald's 90th birthday on Jan. 29 with a cake, and used it to also celebrate the Herald winning the Kentucky Press Association General Excellence Award for the second year in a row.
The Herald itself got into the spirit, publishing a front page that day that was a throwback to the look of the original Herald.
One thing that hasn't changed in these 90 years: The Herald remains the best source of news about the WKU community, and a great training ground for student journalists.