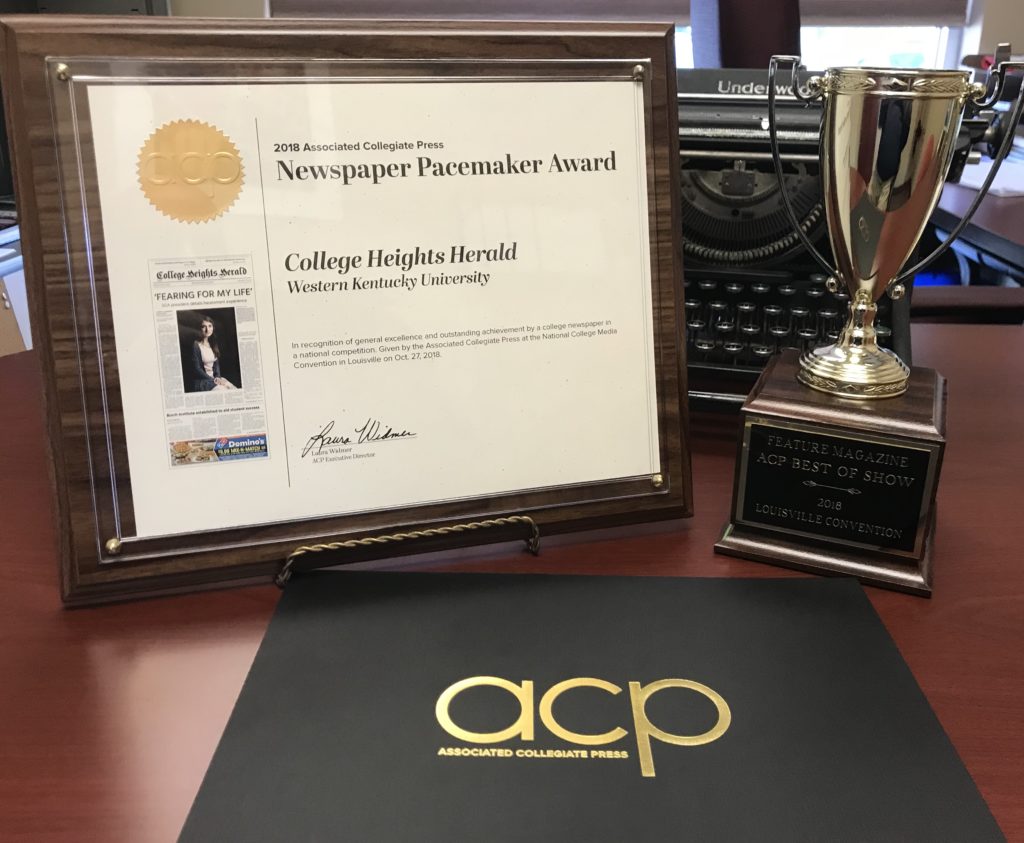 The College Heights Herald and the Talisman were honored with top awards during the National College Media Convention in Louisville Oct. 25-28.
The Herald won a 2018 Newspaper Pacemaker, the second year in a row the Herald has won the award, and Talisman magazine placed first in the ACP Best of Show competition for collegiate feature magazines.
In addition to the newspaper Pacemaker, the Herald's WKUHerald.com was a finalist for an online Pacemaker, as was the website for the Talisman, WKUTalisman.com.
The Pacemaker, awarded by the Associated Collegiate Press, is regarded as the nation's highest honor for a student-run publication. The Herald's win was its 17th and the 37th for WKU Student Publications. Talisman has 20 Pacemakers – two in its current format as a life and culture magazine for its website and 18 from its years as a yearbook.
Andrew Henderson, a May 2018 graduate from Olive Hill, Kentucky, was editor of the Herald in 2017-18 and now works for The Oldham Era in LaGrange, Kentucky. Helen Gibson, a May 2018 graduate from Cadiz, Kentucky, was the 2017-18 editor of the Talisman and is a content and marketing communications fellow at Q Ideas in Franklin, Tennessee.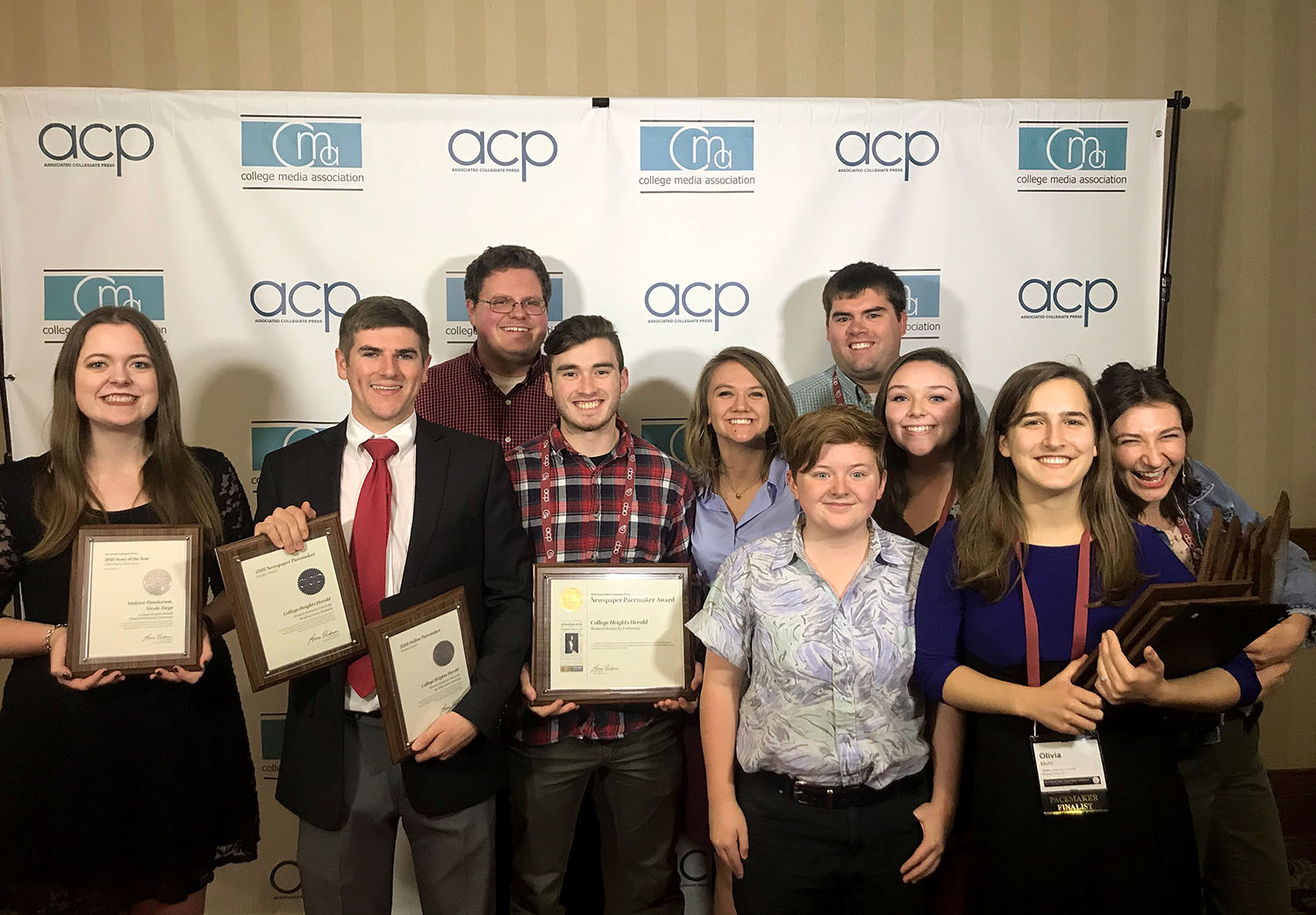 Talisman and Herald students were also recognized with 11 individual awards during the Associated Collegiate Press awards ceremony Saturday:
In the Best of Show competition, WKUTalisman.com placed seventh among large-school websites.
In the College Media Association Pinnacle Awards announced Friday at the convention, the Talisman placed first for Best Online Main Page. Portland, Oregon, senior Silas Walker, a Herald photographer, placed second in Best Sports Feature Photo, and the Herald received honorable mention in Best Online Sports Section.
Representing the Talisman at the convention were Good and Nicholasville junior Olivia Mohr. Representing the Herald were Louisville sophomore Laurel Deppen, Louisville senior Brandon Edwards, junior Mason Davis, Ziege, and junior Julie Sisler from Clive, Iowa.
Talisman Adviser Sam Oldenburg also participated in the conference and presented a session, "Photo editing: more than meets the eye."
Talisman, WKUTalisman.com win CSPA awards
In a separate contest, Columbia Scholastic Press Association named Talisman a Crown Finalist for hybrid print-digital magazines and Talisman staffers won 14 awards for individual excellence.
Being a Crown Finalist means Talisman will receive either the Gold Crown, CSPA's top national award, or a Silver Crown. The awards will be announced in March 2019.
In CSPA's Gold Circle competition, Talisman staffers won the following awards:
FIRST PLACE
Alternative Story Form: Zora Gordon, EhtanVannatta, Sam Flick, "Paving the Way," Talisman
Single News Feature Photo: Silas Walker, "The Right to Dream," Talisman
Single-Subject Feature Package Double-Truck: Sam Flick, "Balancing House and Home," Talisman
First-Person Experience: Hannah McCarthy, "Flesh Memories," Talisman
SECOND PLACE
Headline writing, staff, Talisman
Single-Subject Feature Package, 3 or More Pages: Emily Johns, "Cash Cows," Talisman
THIRD PLACE
Single News Feature Photo: Chris Kohley, "Come Together," Talisman
Sports Feature: Hayley Robb, "Game, Set, Unmatched," Talisman
CERTIFICATE OF MERIT
Cover Design: Emily Johns, "Power, Issue 03," Talisman
Single News Feature Photo: Silas Walker, "Cash Cows," Talisman
Design of Single Spread: Sam Flick, "Shrimp and Grits," Talisman
In-Depth News/Feature Story: Delaney Holt, Hunter Frint, "Passing the Towel," Talisman
Personality Profile: Phi Chu, "Reaching Redempton," Talisman
General Feature: Max Zambrano, "Cash Cows," Talisman