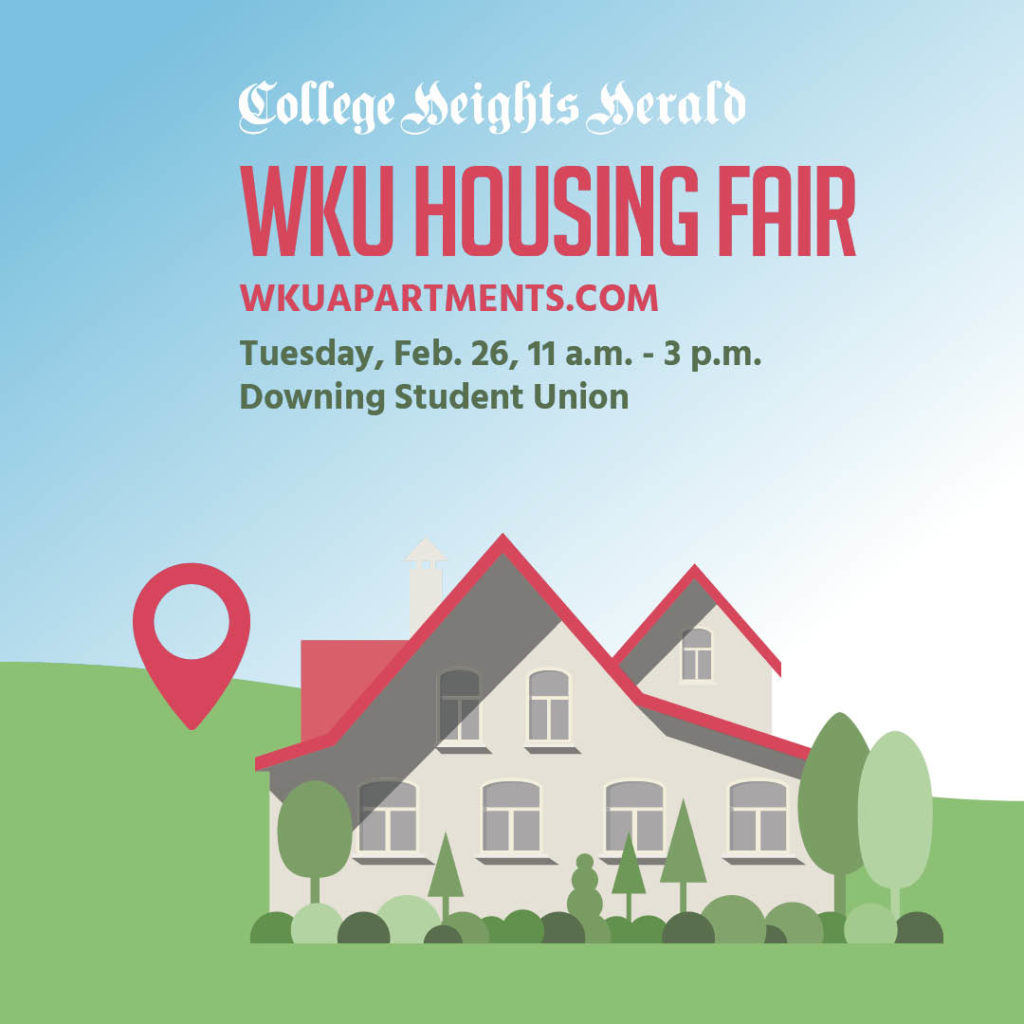 Finding the right place to live is among the confusing choices college students face each year. On Feb. 26, the College Heights Herald will bring WKU students a new level of access to the best information when the Herald hosts the first WKU Housing Fair throughout Downing Student Union.
The event, which will feature the top Bowling Green apartment complexes catering to students as well as WKU Housing & Residence Life and Bowling Green Municipal Utilities, will run from 11 a.m. to 3 p.m. on the first and second floors of DSU.
The WKU Housing Fair will be the first time an event has been staged to help all WKU students – whether they live in residence halls or apartments – figure out housing needs for the coming 2019-20 school year.
"The Herald saw this as an unmet need for students at WKU," said Chuck Clark, director of WKU Student Publications. "We figured the Herald, with its popular housing guide and apartments website, could stage a terrific event to help students sort out the housing confusion, on campus and off. So we worked with WKU and Housing & Residence Life to bring all these elements together, at one time, under one roof."
Also on Feb. 26, the College Heights Herald will include the annual housing guide, a special section produced by Cherry Creative, the student-run specialty content agency at WKU Student Publications. It will be loaded with information on how to choose the right place, tips for negotiating a lease, and a formula for figuring out how much you can afford to pay in rent. The guide, along with additional information to help students, also will be available at the Herald's WKUApartments.com website.
At the WKU Housing Fair, students will be able to compare a variety of housing options, from residence halls to the top apartment complexes, and also can get information on utilities. Participants are:

BGMU
Campus Evolution Villages
Campus Pointe
The Columns
Covington Oaks
The Crown
Fairways at Hartland
Hilltop Club
Midtown BG
Muse Bowling Green
Olde Towne at Mount Victor
The Registry
WKU Housing & Residence Life
Students attending the WKU Housing Fair will be given a Herald Housing Passport that can be punched at vendors' tables. Those who gather at least four check-ins and return their Passport will be eligible for a variety of prizes to be drawn at the end of the event, including gift cards and a 40-inch smart TV.
The College Heights Herald/WKUHerald.com is WKU's student-run news organization. The Herald is among the nation's best college newsrooms, winning 17 Pacemaker awards, the nation's highest honor for a student publication. Assisting in the WKU Housing Fair are two other student-run divisions of WKU Student Publications: Talisman/WKUTalisman.com, WKU's life and culture magazine and website, which have won 20 Pacemakers; and Cherry Creative, the new specialty content agency producing the housing guide and helping market and stage the event.