WKU Student Publications was named a finalist by the Associated Collegiate Press for five national Pacemaker awards, the largest number of finalist distinctions the program has earned in a single year.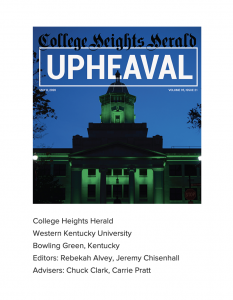 The finalists from WKU, which ACP announced throughout the past week, were:
Newspaper: College Heights Herald
Magazine: Talisman
Online: WKUHerald.com
Online: WKUTalisman.com
Innovation: Cherry Creative
The Pacemaker is considered the highest honor for a student-run media operation. It is awarded to publications that are judged to be at the highest level of quality among their peers nationwide. Over the years, WKU Student Publications has collected 37 Pacemaker awards – 20 for Talisman and 17 for the College Heights Herald.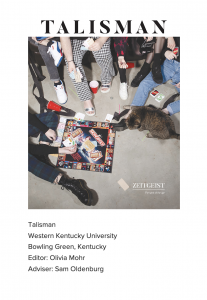 Jeremy Chisenhall, a December 2019 graduate living in Lexington, and Rebekah Alvey, a May 2020 graduate living in Bowling Green, were editors-in-chief of the College Heights Herald during the contest period. Olivia Mohr, a May 2020 graduate living in Danville, was Talisman editor-in-chief, and Hayley Robb, a May 2020 graduate living in Louisville, was Cherry Creative director. Sam Oldenburg is adviser for Talisman and Cherry Creative, and Carrie Pratt is adviser for the Herald.
"Having five finalists for Pacemakers is outstanding, and a first for us," said Chuck Clark, Student Publications director. "This means our students' work was judged among the best in the country in every category where we submitted an entry."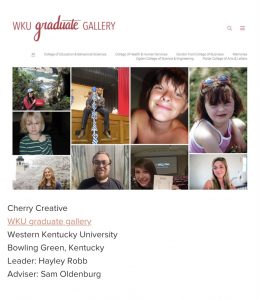 "Whether we win a Pacemaker or not, I am enormously proud of the work our students did during 2019-20, under some very tough conditions, and happy that the judges looked on their work favorably."
While the Herald and the Talisman have a long history of winning Pacemakers – both of the publications are in the Associated Collegiate Press Hall of Fame – it marks the first finalist honor for Cherry Creative, a branded content studio launched in Fall 2018.
Cherry is a finalist for the Innovation Pacemaker, the first time ACP has given this award. It was selected as a finalist for its digital WKU Graduate Gallery, launched in Spring 2020 as a way for parents and others to honor WKU's graduating seniors.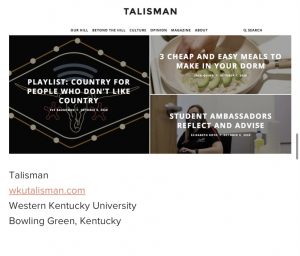 "In a typical year, we would publish a special section in the Herald listing every graduate's name as a keepsake, and support it with advertising sales," Clark said. With printing of the Herald suspended because of the global coronavirus pandemic, the Cherry Creative team launched a digital product that allowed parents to honor their graduating seniors by posting photos and messages for a small fee. It can be found at www.cherrycreativewku.com/wkugrads.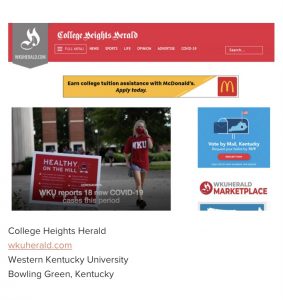 WKU's five finalists are the most finalists from any university or program in the ACP competition. Pepperdine University in Malibu, California, had four finalists, and eight schools around the country had three Pacemaker finalists.
Pacemaker finalists will be recognized and the Pacemaker winners announced virtually at 5 p.m. CDT on Thursday, Oct. 22, during the Fall National College Media Convention.
"The Pacemaker is the association's preeminent award," ACP executive director Laura Widmer said. "ACP is honored to recognize the best of the best."