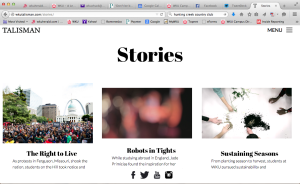 The 2015 Talisman has been delivered to the printer and will arrive on campus for distribution in August.
The book contains some terrific work — beautiful photography, strong writing, exceptional design — and is worthy as the latest edition of the nation's best university yearbook.
You can sample digital versions of a few of the stories at wkutalisman.com.
This is the first year in a decade that the Talisman has been sold to students, rather than being distributed for free. If you are interested in a copy, you can buy sending a check for $40, including shipping, to:
Talisman
WKU Student Publications
1906 College Heights Blvd. #11084
Bowling Green, KY 42101-1084
Please be sure to include the address where you'd like it shipped.
Katie Meek, a May graduate from Elizabethtown, was editor of the 2015 Talisman.