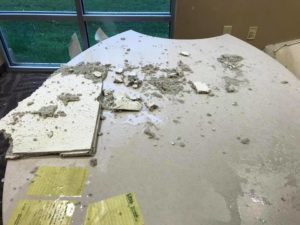 The leftovers of Hurricane Harvey swirled into Bowling Green overnight Thursday/Friday morning, and left a mess of a calling card in the Talisman area of WKU Student Publications.
When adviser Sam Oldenburg arrived at the office Friday morning, he found a partly collapsed ceiling in the Talisman suite, with ceiling tiles and water swamping computers, furniture and the floor, and streaming down the outer wall.
The entire pro staff on hand Friday moved into action and cleared out undamaged computers and furniture as the leak continued, and then plowed through damaged property.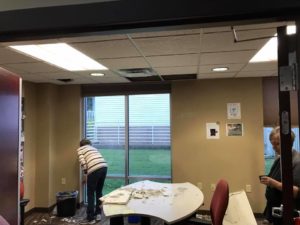 Two 27-inch iMacs — one brand new and the other about a year old — took the brunt of the mess. While they were coated with the gray, pasty remains of ceiling tiles and wet with rainwater, we're hopeful they'll survive because it did not appear that water entered the vents on the machines, which are somewhat protected by the stand. They'll be drying out under a fan over the holiday weekend before we try to turn them on.
Meanwhile, Talisman editor-in-chief Helen Gibson and Oldenburg wasted no time in converting the Talisman web desk, in the main newsroom area of the Adams-Whitaker Student Publications Center, into a temporary home for both the magazine and web staffs.
They cleaned the area of water and gray gunk and set up several undamaged iMacs and furniture from the soggy suite.
For an update on the deluge at WKU, you can read the College Heights Herald's report at WKUHerald.com.
WKU Facilities Management workers helped clean the initial mess and strategically placed a half-dozen trashcans to catch continued leaking, which they think came through flashing on the suite's flat roof. Repairs likely won't come until next week, since several campus buildings sustained damage from leaks and flooding.