Student leaders for 2023-24 have been appointed for the four divisions of WKU Student Publications.
Leah Hunter, a rising senior from Nashville, will serve a second term as executive editor of the Talisman life and culture magazine and website. Hunter, a journalism and Spanish major, wants to see the publication continue to grow as "the eclectic, evolving record of life on the Hill," in digital and print formats.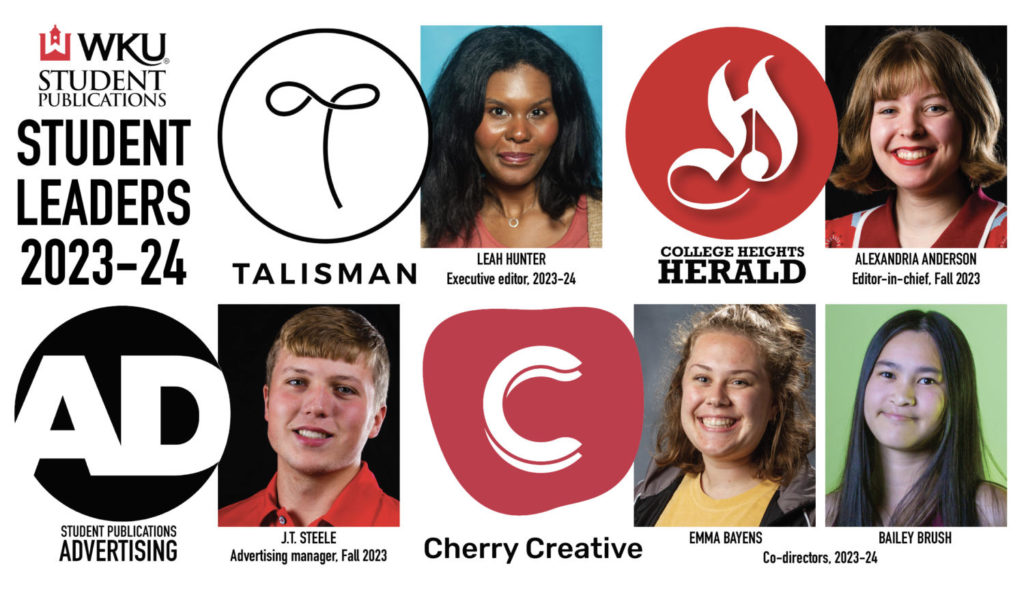 Hunter will spend the summer at The Courier Journal in Louisville, serving in the Paul and Ellen Schuhmann fellowship. She was the Charles Mason Ralph fellow in Summer 2022 at the Lexington Herald-Leader. Hunter plans to graduate in May 2024.
Alexandria Anderson, a rising junior from Indian Mound, Tennessee, will serve as editor-in-chief for the College Heights Herald for Fall 2023. Anderson, a biology and health-sciences double major who intends to go to medical school, is the current content editor of the Herald and has been on the news staff since her first semester at WKU. She plans to complete her undergraduate degrees in May 2025.
Anderson will spend her summer as the Dr. Barbara Burch fellow covering news on the WKU campus for the College Heights Herald and WKUHerald.com and doing other writing assignments for WKU Student Publications.
The Talisman and Herald appointments were made by the Student Publications Committee, a university-wide group with 11 voting members representing students, faculty and staff at WKU.
The Student Publications professional staff selected the leadership for Student Publications Advertising and for the Cherry Creative branded-content studio.
J.T. Steele, a senior from Taylorsville, will serve a second semester as Student Publications Advertising manager for Fall 2023, leading a sales force that generates revenue across our platforms through traditional advertising, special sections, sponsored content and events. Steele is a strategic marketing major and plans to graduate in December 2023.
Emma Bayens and Bailey Brush will serve as co-directors of Cherry Creative for 2023-24. Bayens, a junior from Louisville, is a photojournalism major and will spend the summer at Evansville Living magazine in our Talisman fellowship. Brush, a senior from Evansville, Indiana, is a visual arts major and was the Evansville Living magazine fellow in Summer 2022.
WKU Student Publications is widely recognized among the leading student media groups in the nation. Our divisions have won 44 national Pacemaker Awards, the nation's highest honor for student-led media outlets, since our first in 1978. Thirty-one of those Pacemakers have been awarded since 2000, and seven since 2020, including three in 2022. Collectively, Talisman has 22 Pacemakers, the Herald 21 and one for Cherry Creative.
Our flagship publications, the College Heights Herald and the Talisman, are in the Associated Collegiate Press Hall of Fame, and both are among The Pacemaker 100, the 100 most successful organizations in the century-long history of the ACP Pacemaker Awards, as measured by awards and finalists. The College Heights Herald is the nation's sixth most successful student media outlet in The Pacemaker 100 Top 10.
The roots of WKU Student Publications reach back to 1924, when the first edition of Talisman was published as a yearbook. The College Heights Herald newspaper began publication on Jan. 29, 1925, and Student Publications Advertising was launched the same year, working as the business and sales staff for the Herald. Cherry Creative is our newest area, added in 2018.
Today, Talisman is a life and culture magazine with a companion website at WKUTalisman.com. The College Heights Herald produces a daily email newsletter that goes to more than 30,000 subscribers, publishes an enterprise news magazine three times each semester and operates a 24/7 website, WKUHerald.com. Cherry Creative and Student Publications Advertising combine to generate revenue through traditional advertising, topical specialty publications, client-focused sponsored content, partnerships such as the A Table for Y'all dining guide and events such as the WKU Housing Fair and the Best of the Hill Festival.
For more information, contact Chuck Clark, director, WKU Student Publications, at [email protected] or 270-745-4206.